Carrier Introduces Greenspeed™
The most efficient Heat pump on the market today!
This heatpump is 29% more efficient than the nearest competitor. An all-season superunit that combines both cooling and heating efficiency through its "Greenspeed™ Intelligence Technology". A Greenspeed™ heat pump has an unprecedented ability to balance efficiency, performance, comfort and reliability.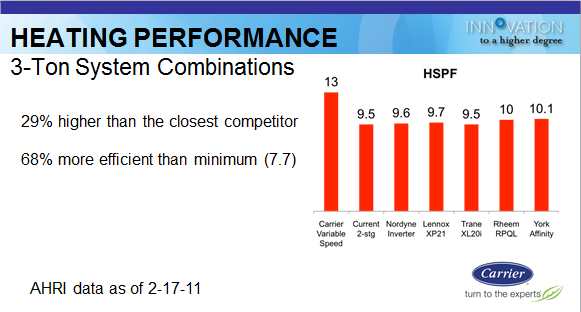 This new product uses a variable speed scroll compressor, giving homeowners the comfort of consistent indoor temperatures associated with variable speed technology while reducing their use of fossil fuels and lowerin their electric heating costs. The new heat pump with Greenspeed Intelligence will deliver a Heating Seasonal Performance Factor (HSPF) heating efficiency rating up to 13 and cooling efficiences of up to 20 SEER (Seasonal Energy Efficiency Ratio).
The new infinity heat pump with Greenspeed intellligence is the highest heating efficience residential air source heat pump available on the market today. In the commonly sold 3-ton size, consumers will enjoy a heating efficiency rating 29 to 69 percent higher than other air source heat pumps on the market today.
The Infinity heat pump with Greenspeed intelligence is a revolunitary breakthrough for home comfort and demonstrates how technological innovation can reduce energy use and carbon emissions.

Find out what this super unit can do for you!

Welcome to Central Heating and Air Conditioning, Inc. - Serving Home Systems Since 1947.
Central Heating and Air Conditioning has been educating technicians and servicing home systems since 1947. Our reputation in the Atlanta, Johns Creek and Marietta regions of Georgia precedes us as the #1 rated training company in the state.
Our business is built on the timeless values of education, family ownership and guaranteed heating and cooling skills. We are still owned by our founding family, the Woolley's, who ensure that our employees hold the most up-to-date industry skills. Our technicians in turn provide each client with the utmost in heating and air conditioning design, installation and maintenance.
Heating and Air Conditioning Repair Atlanta, GA
Your comfort is our goal, no matter what the weather. Our 24-7 emergency service assures that your family will stay warm with guaranteed winter heating repair, and cool with air conditioning repair during the hottest Atlanta summer days. Your financial comfort is also important, and we can offer flexible payment options to suit your budget.
Heating, Air Conditioning and Furnace and AC Repair Atlanta GA
In addition to new heating and air conditioning system installation and furnace and AC repair, we can help improve the air quality of your home. Houses and pests contribute significantly to indoor pollutants including dust, gas, bacteria, synthetic chemicals, pet dander and more. Duct system analysis and cleanings, air filters and air sterilization can go a long way to reducing sickness and allergies, while also improving the efficiency of your HVAC system.
Central Heating and Air Conditioning has spent the better part of a century heating and cooling Atlanta, and we look forward to being your family's trusted provider of furnace and air conditioner repair!
We are conveniently located near I-285 and I-85 Central service vans have quick access to serve you in all of north Atlanta. From mid-town to Atlanta GA, Buckhead GA, Brookhaven GA, Sandy Springs GA, Dunwoody GA, Roswell GA, Alpharetta GA, Johns Creek GA, Duluth GA, Lilburn GA, Tucker GA, Stone Mountain GA, Buford GA, Lawrenceville GA, Cumming GA, Norcross GA, and Marietta GA.